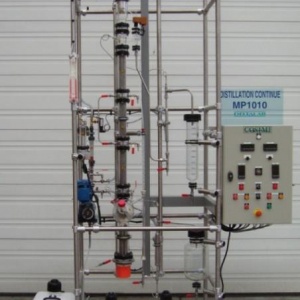 Non contractual photo
Service : 230 V / 50 Hz / Single phase: 4 kW.
Cold water 20 ° C / 3 bar;
1 m3 / h.
Sewer.
Dimensions : 1,40 m x 0,65 m x 2,00 m
Weight : 120kg

Print / download the product sheet
Principle of operation
Distillation allows the separation of a mixture of compounds having different boiling points. The boiling of the mixture makes it possible to obtain vapors of compositions different from the liquid. Re-condensations and multiple re-evaporations progressively enrich the vapor phase to the most volatile product. The packing present in the column multiplies the contact surface and thus the material transfers. A metering pump for introducing the solution at specific points in the column makes this unit operation continuous. The vapors are condensed and then distributed between the distillate (recovered continuously) and the reflux via a solenoid valve regulated on the column temperature. The residue is also recovered continuously from the bottom of the boiler. The temperatures at the bottom and at the top of the column are measured as well as at the points of introduction of the solution in order to establish the temperature profile.
Option 1: Glass preheater and heating set consisting of 3 250W heating cartridges and 316L stainless steel heating finger
Option 2: Motorized reflux control valve