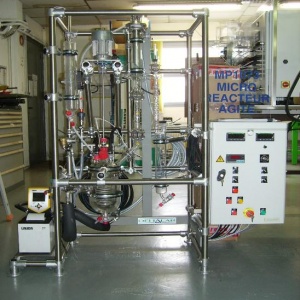 Non contractual photo
Service : 230 V / 50 Hz / Single phase: 3 kW.
Cold water 20 ° C / 3 bar: 1 m3 / h.
Empty 100 mbar: 2 Nm3 / h
Sewer.
Dimensions : 1 m x 0,6 m x 1,5 m
Weight : ~ 80 kg

Print / download the product sheet
Principle of operation

The reaction is a fundamental operation of the chemical industry, making it possible to produce, from simple molecules (reagents), more and more complex compounds intended for a growing number of industries (chemistry, pharmacy, etc.).
The reactor is of the perfectly stirred type and operates discontinuously: the quantity of reagent is introduced at the beginning of the handling at one time or controlled as a function of time. The reaction mass is brought to the required temperature (fixed or programmed as a function of time). The presence of a distillation column makes it possible to evaporate a solvent in the same reactor, to separate the products of the reaction when the desired degree of conversion is reached or to eliminate one of the products of the reaction (case of reversible reactions for move the thermodynamic equilibrium). At the end of the handling the products of the reaction are recovered after cooling.
The reactor also makes it possible to make "batch" crystallizations (the borosilicate glass vat option makes it possible to see the nucleation and growth phase of the crystals).
Option 1: Cylindrical reactor type "GRIGNARD" made of borosilicate glass, with double thermal fluid heating jacket and flush drain valve.