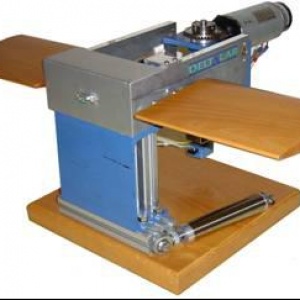 Non contractual photo
Service : a PC type computer with Windows,

SolidWorks and Cosmosmotion

a power supply: 220V - 50 Hz - single phase
Dimensions : EX600 : 700 x 500 x 400 mm / Electrical cabinet : 300 x 220 x 150 mm
Weight : EX600 : 4 kg / Electrical cabinet : 1 kg

Print / download the product sheet
The proposed horizontal empennage is part of the aerodynamic model of the Airbus A320 aircraft, intended for wind tunnel tests, carried out on a 1 / 11th scale.
This system makes it possible to approach the fields of Mechanical Engineering and Electrical Engineering :

Structural analysis of the empennage control mechanism

1 TD with corrected : role of empennage in the flight dynamics of the A320

Functional analysis of the empennage control mechanism

Identification of the components of the empennage control mechanism

Schematic and geometric representations of this mechanism

Kinematic behavior of this mechanism

Static behavior of this mechanism

Technical analysis, characteristics of assemblies and guides

Definition, structure of a slave system and definition of performance

Open loop operation of the system with obtaining graphs of kinematic and dynamic functions

Closed-loop operation of the slave system (gain adjustment) with obtaining kinematic and dynamic function graphs
Part energy chain composed :

An articulated tail support relative to the attachment armature,

The support was conceived to allow to create, manually, a complementary effort of perturbation on the empennage

A DC motor

A bevel gear pair, with straight teeth,

A screw system - ball nut,

Two spring rods (simulating the aerodynamic forces), with springs of two different stiffness.

A display device for the operation of the ball screw.

Part information and piloting chain:

A card to acquire the data

An angular position sensor, located on the ball screw

A potentiometric sensor located on the tilting box, measuring the angle of rotation of the empennage

Of an acquisition chain of the following functions: voltage at the motor terminals, moment of the engine torque,

Angular positions of the empennage, angular input and output speeds of the mechanism, overall reduction ratio

An electrical box including the power card, a power supply, the connections required to connect the model and the PC.

Technical file, pedagogical, resource, on cd-rom.