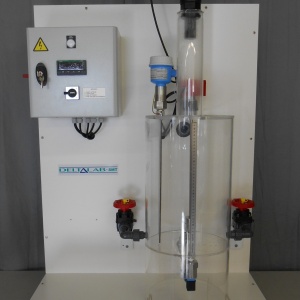 Non contractual photo
Service : Power supply: 230 V, 50 Hz, 250 W.
Clean water: 4 bar, 20 ° C, 500 L / h.
Dimensions : 850 x 450 x 1150 mm

Print / download the product sheet
This bench makes it possible to implement different level measurement technologies used in the industry :
Study of the implantation of the sensors and their calibration
Study of the different cases of applications
Determination of sensor characteristic curves and their accuracy
A container is equipped with a water supply with an adjustable pressure regulator (0 to 3 bar), a flow control valve, an overflow, a total drain valve, a an evacuation with a leakage flow control valve and a level marking ruler. In the container are installed several types of level measuring sensors: ultrasonic, capacitive effect, float and hydrostatic pressure. The display of the various sensors is common and located in an electrical box with all the power supplies. A 4-position switch selects the measuring principle. The device is mounted on a welded stainless steel frame.