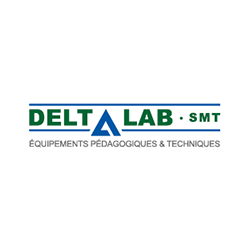 Non contractual photo
Service : For the three benches :
Rigid support table for mounting the bench.
For the EX180 and EX185 benches:
PC compatible microcomputer and printer.
6-way extensometry bridge, EI616.

Dimensions : 600 x 260 x 450 mm
Weight : 14kg

Print / download the product sheet
The three available stands all share the EX170 base machine and the VIBROTOR software. The banks are scalable and it is possible to modify the initial configuration EX170 to transform it into configuration EX180 and EX185.
The dynamic body bench EX170 allows the experimental study of the balancing of a rotating assembly, the visualization of vibration phenomena and the validation of observations using the associated VIBROTOR software.

The EX170, EX180 and EX185 benches allow :

The static and dynamic balancing of the rotating assembly without additional mass.

The study of the rotating assembly loaded by one or more masses.

The dynamic balancing of the rotating assembly loaded by a mass placed on a plate by adding one or more masses on the same plate or by adding masses on other plates.

The quantitative study of several types of vibrations: symmetrical, dissymmetrical, damped vibrations (EX180 - EX185)

The quantitative study of several types of unbalance: unbalance force, unbalance torque, unbalance. (EX180 - EX185) Rebalancing of the rotating system. (EX180 - EX185)
Realization of static and dynamic balances of unbalanced assemblies by trays of any shape, as well as the measurement of forces at the bearing (EX185) The purpose of the VIBROTOR simulation software is to illustrate the behavior of the rotating assembly and to determine how it can be rebalanced with point masses.
EX170 The EX170 :

test bench consists of a shaft, guided in rotation by two bearings and provided with four trays. The assembly is elastically connected to the support by means of two pairs of steel blades. Weights, of various values, can be fixed on each of the trays to achieve balancing or unbalancing of the rotating assembly. The rotation is done manually by means of a launcher.

EX180 :

The bench is identical to the bench EX170, but two of the steel blades, supporting the rotating assembly, are equipped with strain gauges for the measurement of the displacements of the bearings and the forces. A magnetic angular proximity sensor allows the measurement of the position and the speed of rotation. The sensors are connected to the EI616 extensometer bridge, which is itself connected to the supplied acquisition board, via the analog output of the bridge.

EX185 :

This bench takes all the characteristics of the previous benches, but it allows to study the balancing of bodies of any shape. The two trays close to the bearings are equipped with flanges on which self-balancing weights can be placed. In addition, one of the trays can be replaced by a solid holder, on which will be placed the bodies to balance.