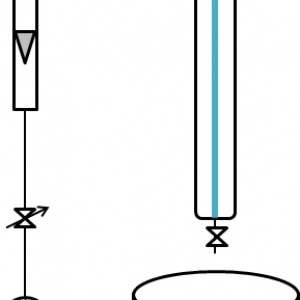 Non contractual photo
Service : Power supply 230V, 50Hz, 0.90kW
Sewer
Water to be treated

Print / download the product sheet
The advanced oxidation processes (AOP) for the treatment of water and industrial effluents, for the most part, combine 2 or 3 reagents (oxidants) in order to produce hydroxyl radicals. Free radicals are highly active species which react rapidly and non-selectively with most organic compounds, known to be difficult to oxidize.
Educational Objectives :
Study of the advanced photocatalytic oxidation process H 2 O 2 / UV
Study of the influence of residence time
Study of the quantity of hydrogen peroxide in the process
Technical specifications :
A 15L PE tank with low drain
A glass falling flux reactor with low drain with in-line UV treatment device. Dimensions: DN100, height 1000mm
An immersed UV lamp emission 254nm, 120W, 1m
A centrifugal pump for the supply of hydrogen peroxide in the reactor (400L / h, 9mCE)
A float flowmeter (30-300L / h)
A manual flow control valve
A needle thermometer in the 0-60 ° C tank
An IP65 electrical control box comprising:

Power buttons and indicator light
Lamp control
Control and protection of the pump

Mechanically welded 304L stainless steel frame on casters, two of which have brakes
Options :
Option 1: Display of curves and data acquisition: The float flowmeter is replaced by an analog turbine flowmeter, the thermometer is replaced by a Pt100 probe. The box includes a touch screen with display of flow and temperature values, display of curves. The control of the pump and the UV lamp. The screen allows data acquisition by USB key in .txt format.
Option 2: ORP monitoring (recommended for degradation monitoring): An ORP sensor in the tank and its transmitter for display on the control unit (and display on the screen and the curves (if option1 also chosen).
DEMANDER UN DEVIS POUR CETTE MACHINE