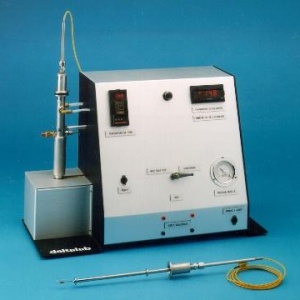 Non contractual photo
Service : Power supply: 220/240 V, 50 Hz, 600W
Network water
Dimensions : 600 x 410 x 280 mm
Weight : 14kg

Print / download the product sheet
The ET130 natural radiation and convection study bench consists of two superimposed enclosures: one heated electrically and regulated, the other cooled by a water exchanger; the whole working under vacuum or at atmospheric pressure. The outlet of the exchanger is equipped with a thermocouple. Experimental devices make it possible to position two circular bodies (black and gray) in one or the other of these enclosures. The temperature of each body is measured by an associated thermocouple (bolometer). A vacuum pump is integrated into the bench.

Experimental possibilities


This bench allows to :

Record the absorption and emission curves of the two bodies under vacuum.
Record the heating and cooling curves of the two bodies.
Determine the coefficient of emissivity or absorptivity, the constant of Stefan Boltzmann.
Determine the conductance per unit area.
Calculate the exchanges by radiation and convection.