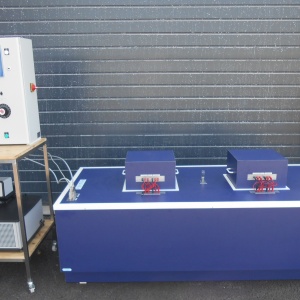 Non contractual photo
Service : EI700C1: complement for diffusivity measurement
EI700C2: frame for testing liquid or powdery materials
220 V - single phase 50 Hz
Dimensions : 120 x 100 x 80 cm
Weight : 100 kg

Print / download the product sheet
The EI701 cell is used to measure the thermophysical characteristics of homogeneous solids and liquids. The experiences vary depending on whether one or two boxes are used.
As part of the testing of liquid or powdery materials (powders, sands), a waterproof frame (option EI700C2) closed by two copper plates in which is placed the liquid or solid to be tested. Thermal diffusivity can be studied with option EI700C1. The temperatures to be measured are in the vicinity of the ambient but it is possible, if necessary, to test the materials up to about 80 ° C. The size of the samples is 270 mm x 270 mm, the thickness being between 30 mm and 70 mm.
a) Practical work of pupils


With a cell with two boxes, depending on the type of box used :
Simultaneous measurements of the thermal conductivity of the sample, on an insulating material and another non-insulating material.
Comparison of the temperature differences on both sides of the two samples at equilibrium.
Record of the kinetics of transient temperatures.
Measurement of the overall exchange coefficient K of each wall.
Measurement of thermal diffusivity.
Calculation of the specific heat Cp.


b) Research

Study of the thermophysical characteristics of homogeneous or inhomogeneous materials according to their composition. Verification of theoretical models or laws of behavior.
Study of the characteristics according to the water content of the material.
Evaluation of characteristics according to aging.