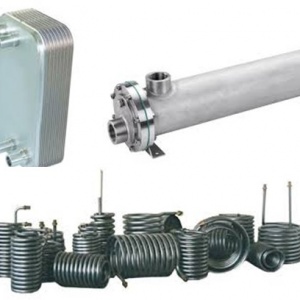 Service : Power supply: 220V - 50 Hz
Cold water supply (1.5m3 / h 2 bar)
Hot water supply (1.5m3 / h 2 bar)
Dimensions : according to the models

Print / download the product sheet
In a large number of operations, it is necessary to supply or remove heat. The MP100 series can study up to four types of exchangers most commonly used in the industry.

Experimental possibilities :

Determination of thermal balances
Determination of global exchange coefficients
Influence of debits on trade
Operation in co-current and against current
Comparison of different exchangers
This bench is equipped according to the version with 1 (MP101 version customized to be adapted with our commercial team) to 4 types of exchangers :

A brazed plate heat exchanger :

- a concentric tube exchanger.
- tubular bundle heat exchanger with stainless steel grille with glass or stainless steel grille.
- A coil heat exchanger.

2 float flow meters for hot and cold water circuits
from 4 to 16 PT100 temperature probes with digital indicators and selector according to the versions
manometers
A set of manual valves
stainless steel supply and discharge circuits, welded steel frame
Electrical cabinet with temperature display, buttons, security system, emergency stop.
Data acquisition option: digital demoders, temperature display on a 7 '' touch screen and transmission on a computer.
Option: water heater group from 3 to 18Kw.