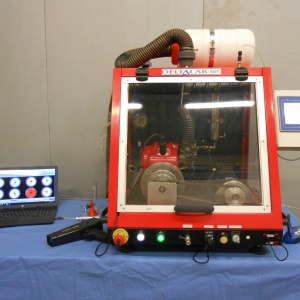 Service : 220 V single phase, 50 Hz
in compressed air
Essence octane rate 98
PC
Voltmeter - ammeter + leads for measurement of motor current and voltage.
Possibly oscilloscope for measurement
Dimensions : 700 x 750 x 750 mm
Weight : 70kg

Print / download the product sheet
This multi-technology system allows the complete study of a combustion engine with injection and electronic ignition. This heat engine is coupled with a DC electric motor to drive (start, adjust) or brake (dynamic load). An electronic injection card has been developed to conduct injection and ignition studies through a PC interface.
Principe

The test bench for a 4-stroke thermal engine consists of a block consisting of an internal combustion 4-stroke combustion engine and an onboard card for controlling the advance angle and the injection time.
An electric motor / generator is initially used as a starter, in order to start the engine. It then flows into an active load, to modulate the load applied to the engine.

It is a complete instrumented system allowing to control the ignition parameters (angle of advance and intensity of the spark), of the injection (duration and moment of the injection), and the resistant torque applied to the engine .
The injection and ignition control parameters are transmitted in real time by microcomputer thanks to a user-friendly and intuitive interface. Consumption measurements can be made. The heat engine and the electric motor are fixed on a base plate and connected by a belt. The set is hooded for soundproofing and security. The exhaust gases are evacuated by suction.
Multidisciplinary studies in mechanics, electronics and industrial computing
Functional analysis of the system (mechanics)
Calibration and study of ignition performance (automotive engineering)
Carburizing study: relationship between air flow and the throttle valve (electronics and industrial computing)
Control of engine consumption (automotive engineering)
Work on CAD files (under Solidworks) of the engine (mechanical)