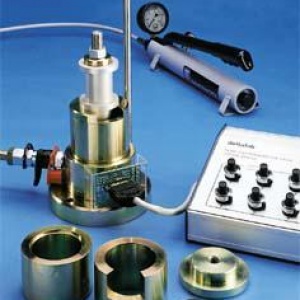 Non contractual photo
Service : 1 6-way extensometry bridge, EI616
1 torque wrench 40 to 200 Nm with polygonal end of 24 for the realization of some experiments.
Dimensions : Hydraulic pump : 40 x 10 x 14 cm / Bolt assembly : Diameter 15 x 37 cm
Weight : Hydraulic pump : 12 kg / Bolt assembly : 3.5 kg

Print / download the product sheet
The ER420 prestressed bolt study unit, dedicated to studying the behavior of bolted joints, allows :

The analysis of stresses and deformations that appear in a bolt for different clamping modes.

The development of a model of behavior for a bolted assembly loaded in the axis: load diagram, influence of the plane of introduction of the load.



The bolt is equipped with strain gauges including a pair of 3-way rosettes for measuring elongation and torsion, and a hydraulic tensioner system with a high-pressure manual hydraulic pump for pulling pure. A comparator allows the measurement of its elongation. A pair of gauges glued to the inner tube allows the measurement of compression.
Modeling : Static analysis of helical slide links and plane support with friction.
Resistance of materials : Study of simple stresses, constraints in a cross section. Mohr circle of constraints, directions and main constraints.
The apparatus includes :

-A bolt of 16 mm diameter on which are glued strain gauges (2 rosettes in opposition).
-A piece of generally tubular shape on the periphery of which are glued two gauges in opposition.
-A tensioner that makes it possible to apply a preload on the bolt or to exert an external force on different levels of a bolted joint.
-A manual hydraulic pump.
-A comparator that allows measurement of elongation.
-Washers and nuts of different materials.
The device requires the use of the EI616 extensometry bridge.