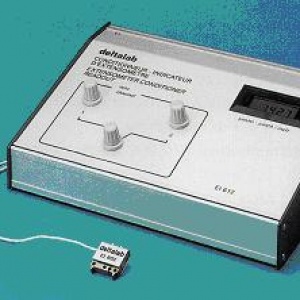 Non contractual photo
Service : Power supply 230V, single phase, 50 or 60 Hz
Dimensions : EI612 : 256 x 105 x 84 mm
Weight : 1,8 kg

Print / download the product sheet
The strain gauge strain gauge is intended for mechanical testing on specimens, models, or real structures. The extensometer EI602 has a reference length of 20 mm. It can be used with a dual channel EI612 indicator conditioner. It can also be connected to other measuring instruments, extensometry bridges, or directly to measuring systems of test machines.
Description indicator conditioner EI612 :

The electronic indicator conditioner EI612 provides power to the extensometer and amplification of the signal, as well as the display of the deformation. It is intended as a dual channel for use with one or two extensometers, with one or the other channel being displayed by switch. Two analog outputs (+/- 2 V) allow simultaneous acquisition and recording of both channels.

Description of the EI602 :

extensometer The extensometer EI602 is fixed on the specimens either by springs or by clamps. Tungsten platinum gauges are fully bridged and hot-bonded to the high tensile test body. The reference length of the extensometer is adjustable to its nominal value per centering pin after placement on the specimen or on the structure to be studied. Stops integrated in the body of the extensometer avoid any plasticization of the test strip during the installation, or during tests up to the rupture of the specimen. This extensometer is intended for the study of the mechanical characteristics of metallic materials in the plastic and elastic domains.

Composition of the equipment :

Standard equipment ref. EI620 composed of an EI602 extensometer and an EI612 indicator conditioner