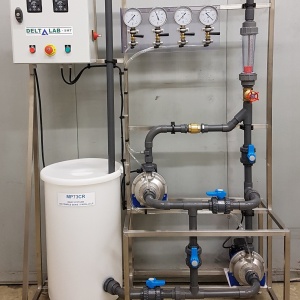 Service : Power supply: 220V -50 Hz single phase - 2 kW
Water supply near the bench for filling and evacuation at ground level for emptying.
Dimensions : 1485 x 600 x 1600 mm
Weight : 95kg

Print / download the product sheet
The MP73CR bench allows the study of an industrial centrifugal pump alone or two pumps mounted either in series or in parallel. Designed to operate in a closed circuit, it is a complete experimental tool for studying the performance and characteristics of centrifugal pumps. With its feed tray, it is hydraulically autonomous and requires only a power supply. It can be easily used in a workshop or classroom.
The bench has two similar centrifugal pumps. The speed of both pumps is regulated by an electronic dimmer with display of speed and power consumption. Complete instrumentation with pressure gauges and flowmeters allows you to determine the hydraulic power and plot the characteristic curves of the pumps.
The bench is built on a stainless steel frame and consists of :
A feed tray with emptying, two rackings
Two industrial single-phase centrifugal pumps with asynchronous motor with three-phase cage and external ventilation. The parallel connection allows to obtain flow rates close to 6 m3 / h and the assembly in series of the pressures higher than 2 bars.
Two dimmers with speed display, display of frequency, power consumption, current and voltage.
A float flowmeter
Four Bourdon pressure gauges, two at suction and two at pumps
An electrical cabinet for the control of the pumps, and porthole for access to the displays of the drives
PVC piping and valves
Technical and pedagogical manual