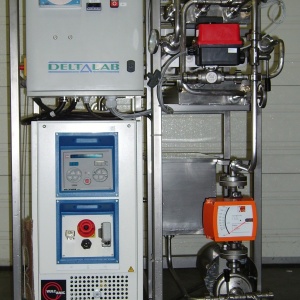 Non contractual photo
Service : Consumption: 16 kW - 220 V, 50Hz
Dimensions : approximately 1200 x 1000 x 1400 mm, can be placed on a table (not supplied)
Weight : 80kg

Print / download the product sheet
Pilot designed for pasteurization of 25 to 250 L / h of product at 85 ° C (fruit juice and viscous products), max viscosity: 1500 cPo.
Technical specifications :
1 tubular exchanger for pasteurization (product / hot water): approx. 0.5 mē
1 chamber 1 L for a residence time at 250L / h of approximately 15s. (Optional possibility of a 2L or 3L lodger for 30s and 45s dwell times)
1 cylindrical-conical stainless steel feed tank, with cover and drain valve, capacity 30 liters.
1 impeller pump controlled by a variator allowing the circulation of low and high viscosity products (up to 1500 cPo). It is used for pasteurization and for cleaning in place
1 manual diversion valve (or optional: electric), placed at the exit of the chambering area. It allows to divert the liquid which does not reach the pasteurization temperature. The diverted liquid is channeled into a flexible tube which can either be directed to the sewer, to a collection tank (optional) or to the supply tank (optional).
Measuring instruments:
2 Pt100 class A probes.
when leaving the chamber to validate the pasteurization temperature
at the output of the heating group to regulate the temperature of the heating group.
1 IP55 electrical box including:

The control and protection of the pump,
The pump speed controller,
the heating temperature regulator
The diversion temperature regulator (optional 1).
An On / Off button and power indicator
An emergency stop button
A set of fuses and differential circuit breakers

1 304L stainless steel circuit with SMS connection for easy disassembly and cleaning of the circuit and exchangers. The process valves are stainless steel butterfly valves.
1 welded 304L stainless steel frame
Supplied with technical instructions
Options :
Supplement required for use: hot water:
Heating group 9kW 95 ° C, 3L tank
OPTIONS:
Option 1: Electric diversion valve controlled by a regulator according to the temperature of the product leaving the chamber.
Option 2: 100L PE tank for feeding or for recycling the unpasteurized product.
Option 3: 2L lodger instead of the 1L lodger
Option 3bis: Lodger of 3L instead of the lodger of 1L
Option 4: Second stage for cooling of 0.5mē approx. (in waste water), with temperature probe and flow regulation by proportional solenoid valve.
Option 5: Thermoregulatory chiller 27 ° C, 6kW (cooling capacity) to replace the water lost in the chiller cold circuit. Please note that the power supply of this thermoregulator unit is three-phase 400V, 50Hz, 4kW.
DEMANDER UN DEVIS POUR CETTE MACHINE